About Me
I am a physician currently living with my wife, two children and our Labrador retriever in Las Rozas, Madrid where we relocated in 2002 after a three years living in the U.S.

I received medical training at the University Hospital (Clinica Universidad de Navarra) in Pamplona and earned a M.D. degree in 1983 from the University of Navarra School of Medicine. In 1987 I went to work for my current employer, a major pharmaceutical company, where most of my career, both in Europe and the U.S., has been devoted to R&D -developing new drugs for central nervous system disorders- and later to management.
My interest for astronomy, space exploration and radio -I am a licensed amateur radio operator, EA4LE and KC2HAX- dates back to my early childhood but the spark that definitely ignited my curiosity and passion for astronomy was watching Carl Sagan's Cosmos TV series during my late teenage years.
In the early nineties I learn of amateur astronomers doing deep sky imaging with a new breed of CCD digital cameras. As my previous attempts to image with film had been so disappointing, I started toying around with the idea of making one of these very sensitive digital cameras. The solution came with the publication of The CCD Camera Cookbook by Berry, Kanto and Munger. My home brew Cookbook camera saw its first light in the summer of 1998 and for the first time I had digitally imaged Jupiter and the four Galilean satellites. From there I went to successfully modify webcams for long exposure and later I had a lot of fun with the Canon digital SLR cameras. In 2005 I went back to cooled CCD imagers with a marvelous piece of equipment, a SBIG STL11000M camera. I have other cooled cameras but the STL 11K continues to be the workhorse at the home observatory.

Living in the suburbs of a big city means light pollution. That's why I only do narrow-band emission-line imaging from my backyard observatory, for wide-band imaging I drive to La Hita observatory, a remote location shared with other fellow amateur astronomers.
Some of my deepsky photographs have been published (see below) in astronomy magazines like Ciel et Space, France, Le Stelle, Rivista di Cultura Astronomica, Italy, Astronomia, Spain and Espacio, Spain. My photographs are also featured in Robert Reeves book Introduction to Digital Astrophotography, Willmann-Bell Inc., 2005, and calendars as the 2010 Year in Space Calendar and the ASA Color of the Universe calendars (2009 and 2010). Three of my deep sky CCD Images have become NASA's Astronomy Picture of the Day (APOD) on 2007 July 16 , 2007 October 19 and 2008 October 18 .

I hope you enjoy the visit to this site. You are welcome to e-mail me at antonio(at)afernandez.net (just replace '(at)' with @ ).
Clear skies!
antonio
Published Images and Other Recognitions

---
Four of Antonio Fernandez emission-line images are featured in the 2010 edition of the award-winning calendar The Year in Space 2010. The Year in Space Calendar features top-notch images from institutions like NASA, JPL, ESA, Space Telescope Science Institute and world-class astrophotographers. The calendar also offers a wealth of information on the past, present and future of space exploration and astronomical discovery.

---
ASA Colors of Our Universe 2010 Calendar.
The emission-line image of The Great Orion Nebula is featured in the Cover and December Page

---
Hands-On Universe, HOU España, 2009
Several of my images have been used to produce the printed materials and website of the Hands-On Universe Spain project
---



Emission-line images of The Rosette Nebula (Cover) and The Pelican Nebula (December Page) are featured in ASA Colors of Our Universe 2009 Calendar.

---
The tricolor emission-line image of CTB1 supernova remnant in Cassiopeia became Image of the Month ( L'Image du Mois) in the December 2008 issue of French astronomy journal Ciel & Space

---
Sharpless 171 in Cepheus. 2008 October 18

APOD Explanation: Cosmic pillars of cold molecular gas and clouds of dark dust lie within Sharpless 171, a star-forming region some 3,000 light-years away in the royal constellation Cepheus. This tantalizing false-color skyscape spans about 20 light-years across the nebula's bright central region. It also highlights the pervasive glow of emission from atomic gas using narrowband filters and a color palette made popular in Hubble Space Telescope images. Powering the nebular glow are the young, hot stars of a newly formed cluster, Berkeley 59. Of course, this star-forming region is entry number 171 in the famous 1959 catalog of emission nebulae compiled by astronomer Stewart Sharpless.

---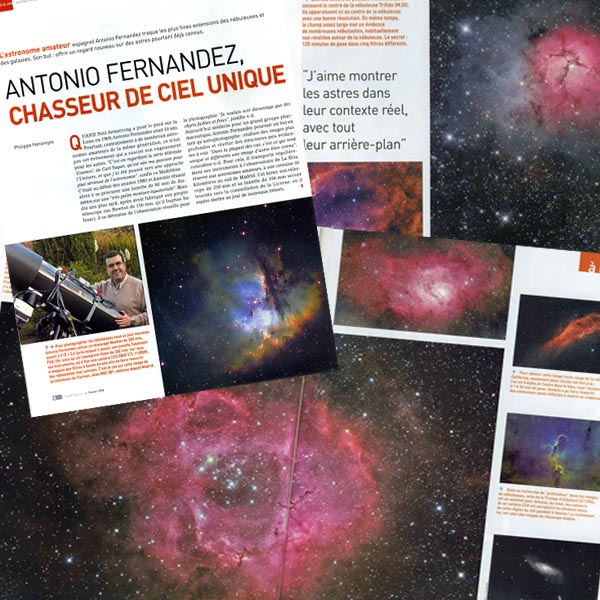 "Antonio Fernandez, Chasseur de Ciel Unique" by Philippe Henarejos, Ciel & Space, February 2008

---
Images of IC1848 (September) and NGC6888 (July) featured in Ciel & Space 2008 Calendar

---
M42 The Great Orion Nebula. AAS Astrophotographer's Meeting Suplement, December 2007
---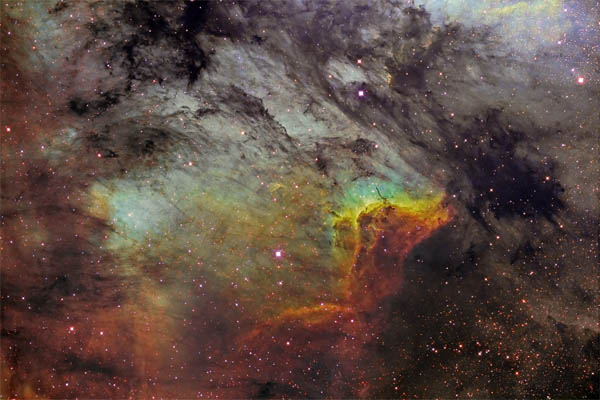 IC5067 in The Pelican Nebula. 2007 October 19
APOD Explanation: The prominent ridge of emission featured in this dramatic skyscape is cataloged as IC 5067. Part of a larger emission nebula with a distinctive shape, popularly called The Pelican Nebula, the ridge spans about 10 light-years following the curve of the cosmic pelican's head and neck. This false color view also translates the pervasive glow of narrow emission lines from atoms in the nebula to a color palette made popular in Hubble Space Telescope images of star forming regions. Fantastic, dark shapes inhabiting the 1/2 degree wide field are clouds of cool gas and dust sculpted by the winds and radiation from hot, massive stars. Close-ups of some of the sculpted clouds show clear signs of newly forming stars. The Pelican Nebula, itself cataloged as IC 5070, is about 2,000 light-years away. To find it, look northeast of bright star Deneb in the high flying constellation Cygnus

---



The Cone Nebula Region. Fotografía con Gigantes by Jon Teus, Espacio, Spain, August 2007
---
The Lagoon Nebula in Gas, Dust and Stars. 2007 July 16

APOD Explanation: Stars are battling gas and dust in the Lagoon Nebula but the photographers are winning. Also known as M8, this photogenic nebula is visible even without binoculars towards the constellation of Sagittarius. The energetic processes of star formation create not only the colors but the chaos. The red-glowing gas results from high-energy starlight striking interstellar hydrogen gas. The dark dust filaments that lace M8 were created in the atmospheres of cool giant stars and in the debris from supernovae explosions. The light from M8 we see today left about 5,000 years ago. Light takes about 50 years to cross this section of M8.

---
A wide field emission-line image of The North America and Pelican Nebulae together with an editorial comment were published in "En el Foco" (At Focus) section of the Spanish journal Astronomia on September 2006
---
The Centre of the Galaxy
Le Stelle, Rivista di Cultura Astronomica, Italy, June 2004

---
The Summer Milky Way
Robert Reeves, Introduction to Digital Astrophotography, Willmann-Bell Inc.,USA, 2005

The Leo Triplet of Galaxies
Robert Reeves, Introduction to Digital Astrophotography, Willmann-Bell Inc.,USA, 2005

---

Most Popular Image in this Website




"IC1848 HII Region in Cassiopeia" released in November 2007. More tham 110000 views as of December 2009!

---