Install information for CloudAlarm:
1 - Install the middlet in your mobile phone. Please, contact with me and I will send you the middlet software.
2 - Install an application server like Apache Tomcat (with its Java Virtual Machine)
3 - Confituration of your application server a context-root called "CloudAlarm". To get this, go to the Tomcat-install-directory\webapps directory, and create a directory called "CloudAlarm" at the same level that other directories of other apps included in Apache Tomcat like "manager" or "examples".
In this created "CloudAlarm" directory you have to tell AAG_CloudWatcher software that points its csv out to the created directory:
This is under Setup tab, select "Path" button under "User Data File" section and go to select the CloudAlarm directory of Tomcat directory. Verify that the User Data File is called "CloudWatcher" as you can see in my previous figure. After this tell AAG_CloudWatcher that it can begin to record information to the .csv file selecting Start button, the button that is down and left in the previous image. Then you will see CloudAlarm (of Tomcat) directory the cloudwatcher archive that it is going to be served by Tomcat through HTTP protocol:
4 - Check it. Now it is time to check the configuration. To do this you have to ask the csv file through a browser. So, startup Apache Tomcat (or shutdown and startup again). The startup file of your Tomcat is located under "bin" directory of your apache-tomcat software. If you look at the previous image, in my example it is located under C:\apache-tomcat-6.0.18\bin
You will see a window like this one:
Look at the 8080 value I have underlined for you. This is the port that your Apache Tomcat is listening. If you would need to change this value, you could need to change this value in the apache-tomcat-dir\conf\server.xml file.
Now you got to know which IP address is the one of your computer, and to get this you can execute a cmd command and there execute "ipconfig":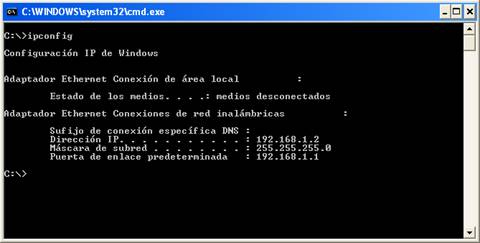 So, in my case my IP is 192.168.1.2
Now type in the URL at your browser with the port and IP you got:
http://192.168.1.2:8080/CloudAlarm/CloudWatcher.csv
If you see it through the browser then your application server is well configurated, like at the following example.
5 - Start the middlet on your mobile phone. It just only need the host and port and not the ".../CloudAlarm/CloudWatcher.csv" information. In my example, the host and port are http://192.168.1.2:8080 but in the following image it is other IP address. So you will have to indicate the one that is ok for you, as I have descrived in the previous examples.
The middlet is ready to stablish again connection if your DSL router fails is rebooted from your DSL provider. (05/24/2009 version only).
Remember to check the behavior of your mobile phone if power management is activated and CloudAlarm is running. May be you need to deactivate power management on your cell phone or PDA. To check it, put your hand over the CloudWatcher unit to get an overcast status when the screen of switched off by the power management, for example. If no ring appears after a minute, you have to deactivate power management issues.
If you are going to use it while sleeping as in my case, you would need to plug your cell phone or PDA to avoid a battery empty status after 3 or 4 hours.
GOODNIGHT !!!