Comments about copyright
Fair use rules (II)
Many people confuse the copyright with the fair use. As its name suggests, the fair use is a general right granting the use of material in the framework of a non-commercial work (in a book which illustrations or quotations are related to their subject, on the Internet and web creations).
In respect with the Berne Convention on Copyright, the U.S.Copyright Office states that "Under the fair use doctrine of the U.S. copyright statute, it is permissible to use limited portions of a work including quotes, for purposes such as commentary, criticism, news reporting, and scholarly reports." That means that outside those uses, it is not fair use. But in all cases, the user is not exempt from applying proper attribution, whatever the media.
Most amateurs and even some professionals take advantage of documents published by others to copy, extract, translate of modify them on their own website or to publish them in books, articles or newsgroups. If the original work is protected by a copyright (for example when there was a translation), sometimes you could be in trouble.
Indeed, such an appropriation could affect the original copyright of the proprietary. It is very important for both parties to determine with accuracy infringement and effect(s) of this use in the marketplace for the original work, specially for any commercial use.
For short, the law states that analysis and short quotations are allowed if the work in which they are included displays a critical, educative, scientific or informative character.
For quotations or extracts of books, if the fair use rule applies, the author or the proprietary of rights has not to grant permission by default, and he is not at all involved with the case.
If the user doesn't know the author and cannot credit the document, better to add the simple legend "Credit: anonymous, rights reserved" or simply "© Rights reserved" but this comment does not suppress the fact that the user published this document without consent of the author and thus in violation with his copyright.
Usually, in case of plagiarism on a blog, whether there is one or ten articles or illustrations does not matter, the blog is immediately suspended by the provider. So be aware of this, and always ask for the permission to use extracts to concerned authors.
Several people infringe copyright because they don't satisfy to these conditions by simple laziness or ignorance. Indeed, if they list well the source of the document (the website URL or the book title), most don't list the name of the author having signed the text or the illustration. But the writer or the webmaster and the illustrator can be (and are usually) different persons. So be aware about this problem to prevent any possible dispute with authors or publishing houses.
About texts, the law states that the quotation must be short, both in regards to the work from which it has been extracted, and to the new document in which it is included. But what exactly means "short" ?
When it concerns a book or a magazine, some authors mention "up to 10 % of the new publication", others stress that no entire work (letter, poem, article) is allowed. Usually, editors accept the use of an A5-size page of quotations or about 1500 characters but there are exceptions.
In my case for example, an editor granted me the permission of reproducing about 9000 characters in my book about the history of quantum physics, Histoire de la Physique : 1 - La Physique Quantique.
As for biographies (e.g. works of Einstein, Newton, Hawking, etc), it goes without saying that the permission concerns much more material and is subject to a peculiar commercial agreement. On Internet the extract is usually much shorter.
Authors are more reluctant when their publication is released on newsgroups. Usually the quotation is limited to one paragraph or a few hundreds of characters maximum, and the credit line must be complete, with mention of copyright, to prevent a copyright infringement.
At the end the evaluation is a rather arbitrary. In case of any doubt, I suggest you to contact the concerned people (author or editor) to prevent in the future to be in their firing line.
On the Internet, the insertion of an hyperlink in a web page to another website to direct the reader to additional information or the hyperlink to an image in small size (with all required mentions of copyright) is usually considered as included in fair use rules. Legal precedents seem to go in that way without replacing the doctrine.
This use is different from inserting a direct link or hot link to an original image published in full size, which copy will be displayed on your site, even virtually. This use can require a permission, all the more when it concerns a commercial work protected by copyright. In this special case, we are outside Fair use rules, and if there abuse, the author can rightfully asserts a harm, moral or financial.
Remember that if you ask someone to include a link to his home page or to specifications or to the image of a product, do never forget that a non response from the author is never worth for a permission (in practice infringements are rarely checked as the fair use usually should apply but this publicity could be not appreciated and represent a harm).
At last, remember that the fair use doesn't mean that everything is permitted. Modifications to a public domain work for example may be protected by copyright and cannot be used without permission. Stanford University Libraries recall a famous case : an artist painted an elaborate hat and mustache on the Mona Lisa. Even though anyone is free to copy this painting, the modified image bringing mustache and hat is protected under the artist's copyright and requires the paiment of a fee.
How to find out an Internet user ?

Investigation on the web
There are several ways to identify an individual on the Internet, at least his or her computer, that it is a company or a private people whose server is reachable from the Internet. We can use online searching engines (e.g. DNSStuff, Host2ip, Whois, Traceroute, Who-hosts... ) or small programs that you can sometimes download (e.g. IPnetinfo, ip2location, ...) and that take advantage of DNS systems, whois directories and commands like ping, lookup, trace, and some others. The search is transparent for the user and the answer immediate. From the domain name for example you can get the mail address and the email of the provider or references of the service provider office to which the user is connected.
Fair use rules and DMCA
The DMCA is an authentic act that the author has to sign. In signing this document, the author liability is engaged. Therefore, pursuing that Act the author may be liable to the alleged infringer for damages (including costs and attorneys' fees) if he materially misrepresents that he owns an item, when he in fact does not. Indeed, in a case judged in 2004, a company that sent an infringement notification by DMCA to a user that used their images and create links without their permission, and seeking removal of online materials was judged for abuse of copyright and no respect of Fair use rules. It was ordered to pay over $125,000 to the defender, including charges and attorney fees ! Accordingly, if you are not sure whether material available online infringes your copyright, do first contact an attorney.
How to comply with DMCA ?
Remember that this document is only require by some providers subjects to the U.S. regulation. But not all companies request a DMCA signed manually, and some accept that you fill in an online form. Europe doesn't use such a document, although EDRi works on a similar project of law (if a provider is located in Europe, the prejudiced author has to send a registered letter by post or even the proof of a judgement to the provider, what encourages infringers).
If an author is victim of an infringement of his copyright and cannot find rapidly an arrangement with the offender, the author can fill in a DMCA that he will address to the provider of the user so that he can make action against the offender, e.g. in removing or disabling the public access to the material claimed to be the subject of infringing activity. Here is a sample of such a DMCA that I prepared (Word document of 23 KB).
In a first step, it is suggested to send an email to the provider Abuse service. He usually has an email address in the format "abuse@domainname.com" (see network tools above).
To intend to comply with the DMCA and other applicable intellectual property laws, from now, most US providers (Google, Trumblr, Wordpress, etc) require that the author provides a written communication that sets forth the items specified in the DMCA. His signature is required on the complaint before the provider can process it. The action from the provider will be immediate. Why ? Because in this way his responsability will be excluded in case of litigation.
To read : How do you send a DMCA ? (Seologic)
Contacts to main Internet providers
If you have difficulties to contact a user copying or plagiarizing your documents, you can contact the provider support team of the concerned website or blog. Usually, the home page lists their email, sometimes a phone number and a tchat.
If the domain is customized, use Who-Hosts.com to identify the host provider.
Here are some useful addresses of providers gathering the majority of users :
Google DMCA (valid for Blogger, Blogspot, YouTube, etc)
Trumblr DMCA - Wordpress DMCA - AOL DMCA - Scribd DMCA - Yahoo! DMCA
MSNGroup (valid for all usergroups managed by MSN) - Centerblog - e-monsite
Skyrock allows en France to inform their abuse team directly via the concerned blog but they first action is to not ensure their responsibility. So do insist.
Free.fr, Hardware.fr and Over-blog belong to the old school. Applying to the letter the LCEN law of 2004, they require a written claim posted by registered mail, and sometimes the proof of a judgement.
As the author needs to sign the DMCA, there are two ways to fill in :
- The provider put at your disposal an online DMCA that you to fill in. Your full name represents your signature. Its is totally digital.
- Fill in a DMCA, print it and sign it by hand. Then scan it (or using a DSLR or compact camera) and attach the image to your email to the provider.
Some companies refuse a scanned DMCA (they are not many). In this particular case, the author has either to send the signed DMCA by fax, ordinary postal mail or he has to put it on a specific website which URL has been given by the provider and where he can download it.
The way to process the DMCA remains at the appreciation of providers. Some companies require the author postal address and phone number and accept that the document is sent by email. Others accept a simple email address of contact but the document has to be put on a website or sent by fax or postal mail.
In fact, usually the address and phone number are not mandatory to initiate a claim. These private information will be only required if the offender initiates a counter notification or when the author will initiate a legal proceeding.
You will find other commentaries on how to complete a DMCA on the website of Google (that also represents Blogger), Scribd and Go Daddy. Note that if the first provider accepts to download a signed DMCA from a website, it doesn't request the address and phone number of the author but only an email, while the other providers request these private and optional information. In this case it is a free interpretation of the law. So, either you discuss the policies with the Abuse team of the company or you escalate the question, or you accept this abuse of authority if you want a fast resolution of your problem.
Let's see now the special case of non-moderated newsgroups, these forums where each people can discuss with correspondents about various subjects. It is became the pastime of many amateurs, and of young people in particular.
Copyright infringement on non-moderated newsgroups (forums)
It could happen that a person infringes voluntarily a copyright in posting an image or copying an extract of book or article from a website or another media under copyright on a non-moderated newsgroup. "Non moderated" means that threads (messages) are subject to no control from a webmaster, named in this case a moderator who has all control on the information released on his server (note that he can stop or delete a message but cannot modify it or change its destination for fear of legal prosecution as well).
To read : 10 Big Myths about copyright explained
One Planet One Network One Billion Internet Users
The copied materiel looks sometime like complete articles representing thousands of characters and several A4 pages. Images are also sometimes displayed at their maximum size. If the sender took always the care of requesting prior publishing the permission to the author or to extract a paragraph or publishing a reduced version of the image with the mention of the copyright and the source, all would be very well in the best of worlds. But usually the author is not informed and the copy spreads on several screen pages showing all characteristics of a plagiarism or an infringement of copyright.
Some amateurs consider that acting like this way "they do publicity" for the referenced website. But it is ignoring that first the author doesn't maybe appreciate a publicity in this kind, and it is also ignoring terms of use of this copyrighted material. Between fair use rules and a complete copy with or without credit, let's recognize that there is for the least more than a shade and surely an infringement.
Because there are harm for the author if a dishonest person put a text which size exceeds admitted fair use rules or a copyrighted material on such non-moderated forums.
These special kind of non-moderated newsgroups are like "free electrons" : their host servers are autonomous, sometimes managed by companies established across the world which activities are almost unverifiable on site, excepted of course in a bordering country.
These news servers are interconnected across the world and use sometimes mirror sites. Their fonction is to assure that the information.... is well transmitted !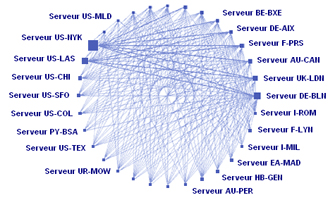 Total assembling of a fragment of the new servers network. They are all interconnected through Internet, the circulation is optimized but out of control because all servers are managed independently each from another.
An information released on one of these servers is automatically duplicated on all connected servers across the planet in a cascade effect. The publicity offered by this "domino effect" is thus almost instantaneous (excepted on Google groups and some other systems that show a latence time from several hours to over one day before publishing), and the information can remain online for years (over 10 years thanks to search engines).
Usually tens or hundreds of peer servers are participating in these networks over the world. If you can require the removing of the litigious information on one of these servers if you can identify the host and the administrator (but not all providers, and mainly those located abroad, will respond to your request, even after an legal decision), you have no mean and thus no chance to remove the message released on all servers across the world.
Moreover, charts published regularly (each 2 months or so) by the inventor of a newsgroup (who in fact suggests a new newsgroup to a managing association but the inventor doesn't manage it) are sent by robots, and the update of their content is not assured. That means that after some years the name of the responsible and the contact address can be invalid. The identification of the forum manager can thus require an investigation duty (that can be executed without charge and quite easily via Internet thanks to searching engines and network management tools).
This is here that lies in the real power of Internet which is very resistant to any control. But in spite of everything, it still offers some "information points", entry doors that skilled users or experts in computing (network administrators, IT security officers or programmers) can exploit to find providers and the dishonest people. Of course you can also request the collaboration of a local investigator or lawyer in each location but at the expensive of an excessive slowness, many charges, and the result is never assured.
In case of repeated abuse, you can report coordinates of the subscriber to the Abuse department of the concerned newsgroup and the account can be blocked. Thanks to network management tools, it became quite easy to identify a people from his IP address, an email address or messages he left behind him, the header containing a lot of useful information.
The only advice that I could give you to quickly contact the dishonest user to stop to post such messages, and then to send just after the litigious message a warning to this newsgroup in the form of a corrective mail (but see comments about viruses and spams on page 3). Then contact the usergroup moderator.
Usually the sole warning published on the newsgroup will exhaust the thread as readers will understand that they would be well to not answer to it for fear of participating in this violation as well. But even if your warning is clear and signed by a lawyer desk, expect you to read some negative answers from little informed people misinterpretating your rights, messages emitted either by the original sender or other readers. Indeed, Internet can remain sufficiently anonymous for permitting some people this kind of freedom. That said, as soon as your warning is released or published, legal proceedings can be initiated if needed.
Legal proceedings
The Berne Convention has eliminated the requirement to register the creative work or that a published work contains a copyright notice. This is true for any work created in any of the member nations. The copyright is automatically assumed in exclusivity.
However, according to lawyers' opinion, it is suggested to mention it because in this way any violator could not claim have committed an "infringement in good faith" as they often tell when they are caught in the act.
In the frame of Berne Copyright Convention, creators from member nations can initiate litigation with any other country without having registered the work.
However, national creators must attempt registration before commencing litigation. In the U.S.A for example, there is an incentive for national creators to register, which is that Congress doubled the level of statutory damages which the copyright owner may recover for registered works.
The non respect of this convention exposes you to legal proceedings. The offence can be associated to a criminal act when concerning forgery, and the pursuer to claim damages as the defender (accused person) intentionally infringed the copyright. It is a severe infringement of the regulation.
A right opposable to all
It ensues from the Berne Convention on copyrights that the creator does not need to prove that the violator made profits or that he suffered of economic or morale injury. Neither that the creator has to prove to be the author of a work. It is to the defender trying to to prove the contrary. So arguing like do some dishonest people that "we don't know if you are really the author" or "I don't know if you say the truth about that work" is simply futile and childish, and is equivalent to confess a total ignorance and a contempt of laws. This does only reinforce the accusation, and the amount of claimed damages. In this case, if no other solution is considered, the plaintiff has no other alternative than bringing the act to Justice to protect his interests.
If the offender is really not in good faith, he will learn to his expense that the verdict can lead to the shut down of the concerned server and to the paiment of statutory damages that were increased from $50,000 to $100,000.
In most cases, U.S. plaintiffs will not be awarded these damages or lawyer's fees unless the work was registered before the infringement was committed.
Similar rules apply in most countries. In Europe for example, statutory damages can reach 75000 €, completed with a sentence of one year of imprisonment for the defender.
The good behaviour code
Knowing this, any reasonable person will understand that it is preferable to negociate a gentleman agreement with the plaintiff author or editor before to end up with a PV or a lawyer's mail. As one says, better to get a good agreement than a long and bad trial. It is not an outmoded expression because in losing a trial, the offender loses not only much money at the benefit of the author but consequences can affect the occupation of the offender, his private life, his relations, his health, etc. Nobody never got out cheerful in losing a trial and prides on it because the fall is often painful. But be positive.
So, to preserve not only their public image but to prevent any dispute and a trial always expensive, tedious, stressing, harassing and exhausting - negative adjectives don't miss -, usually most if not all webmasters do respect scrupulously legal notice and conditions of use that are part of the "good behaviour code" on Internet. It is usually more litigious with some responsibles not too scrupulous and misinformed of moderated newsgroups, blogs and RSS(1). But after some epidermic reactions, the lesson is usually well understood from the first warning.
It is obvious that everybody can commit errors in good faith by lack of information, or on the contrary trying to bypass copyrights by challenge. Up to you to see if your naïvety or your pride is worth an official request to the author or a bad trial.
Penalties for a DMCA violation
Usually civil penalties for a DMCA violation are related to injunctions forbidding the distribution of the tools, products or material involved in the violation. The court may also order the destruction of the tools or products involved in the violation, award actual damages, profits gained through infringement, and attorney's fees. In the worst circumstances, if an individual held in violation of the DMCA commits another such violation within the three-year period following the judgment, the court may increase the damages up to triple the amount that would otherwise be awarded. In the case of nonprofit library, archives or educational institutions, the court must remit damages if it finds that the institution did not know of the violation.
Criminal penalties for a DCMCA violation are much more severe. if the defender is gulty of commercial or private financial gains at the detriment of the author, first time offenders may be fined up to $500,000, imprisoned for five years, or both. For repeat offenders, the maximum penalty increases to a fine of $1,000,000, imprisonment for up to ten years, or both. Criminal penalties are not applicable to nonprofit libraries, archives, and educational institutions.
Let's see now some concrete examples.
Last chapter