L'eclipse de Zambie le 21 Juin 2001
The Zambian eclipse of 2001 June 21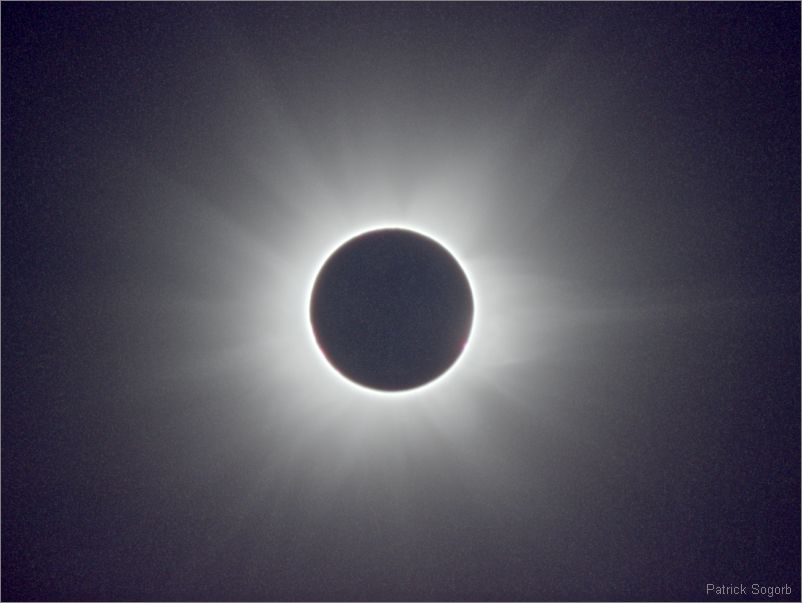 C'est ma première eclipse de Soleil réussie (après le fiasco de l'éclipse de 1999 en France). Photo faite dans la région de Chisamba en Zambie.
It's my first succesful solar eclipse (cloudy weather in 1999 in France). Picture taken near Chisamba in Zambia
Prise de vue / Data:
Lunette Astronomix Komentensucher 100/600. Compositage de 11 images dont les temps de pose vont de 1/8 à 1/8000 de seconde sur Supéria 800.
Astronomix Komentensucher 100/600 refractor. It's an addition of 11 pictures with times exposures between 1/8 and 1/8000s.
Sauf indications contraires, les textes, dessins, tableaux et images de ce site web sont la propriété de l'auteur et ne peuvent être reproduits ou utilisés sans autorisation
Texts, drawings and pictures of this web site are the property of the author and can't be used or duplicated without his authorisation or explicit notice.